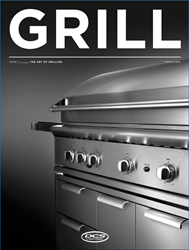 Huntington Beach, California (PRWEB) August 27, 2014
As the country nears the Labor Day 2014 holiday weekend and basks in the heart of the backyard grilling season, DCS by Fisher & Paykel is revealing how to master The Art of Outdoor Grilling through a new magazine that includes instructions how to grill the perfect steak, seasonal grilling recipes, and all the tools needed for a perfect summer of grilling. Called Grill, the digital edition of the new magazines Spring/Summer 2014 issue is free at http://www.dcsappliances.com/company/press-room/brochures/.
We developed Grill magazine because the DCS by Fisher & Paykel brand is all about a premium cooking experience and recognizing the desire for home chefs to master restaurant culinary cooking right in their own backyards, says Gina Lathrum, brand marketing manager for DCS by Fisher & Paykel. In this issue, renowned chefs Charlie Palmer and Ben Farley offer their grilling tips. We consider the ultimate outdoor kitchen and show readers how to create an easy multi-course feast cooked entirely on the grill.
To illustrate, Lathrum refers to the Spring/Summer issues preface, Grilling isnt just a style of cooking its an attitude. From dishes to design, we are passionate about every aspect of outdoor grilling. Thats why weve created a magazine entirely devoted to the art of grilling because grilling can be contentious. When passion runs high, so does debate. Its part of what makes grilling so great. Every state has its own local lore, tried techniques, and loved ingredients; you can discover the flavor of every part of America through its backyard grills
For a taste of whats inside, Lathrum offers up a look at one of the recipes included in the issue:
Grilled Pork Chops with Cucumber, Apple, and Fennel Salsa
Ingredients:

Pork Chops

4 tsp fennel seeds

4 whole, small, red, dried chilies

2 tsp whole allspice

1 cinnamon stick

2 tsp dried oregano

4 cloves garlic

Salt and pepper