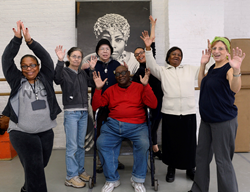 New York, NY (PRWEB) August 06, 2014
Marking the first collaboration of its kind by a healthcare provider and a major arts organization, CenterLight Healthcare, an innovative managed long-term care organization, and the world-renowned Dance Theatre of Harlem recently completed the pilot program of an original dance, movement and balance class for seniors.
The first graduation ceremony of the inventive program was held on June 3rd at the Dance Theatre of Harlem school on W. 152nd St. The program offered members of CenterLight Healthcare with differing levels of mobility (including individuals incapacitated by stroke) the opportunity to enjoy the wellness benefits of music and movement to both the mind and body.
CenterLight students rehearsed and presented a short dance routine, showcasing the skills they learned during the 10-week program. A graduation ceremony followed the performance.
At the ceremony, Dance Theatre of Harlem Executive Director Laveen Naidu remarked on how thrilling it was to see these students so positively impacted: Its incredibly exciting to see the power art has to make a difference in peoples lives. All you need is imagination and the willingness to get it done.
The seniors were offered the rare opportunity to train with the faculty of the world-renowned Dance Theatre of Harlem, including professional dancer and ballet and tap teacher, Rachel Sekyi.
Sekyi noted that she was pleased to welcome the new additions to the Dance Theatre of Harlem family, whom she instructed on how to make pathways in the space and to physically move specific parts of their bodies, which helps keep the mind stimulated and the body rejuvenated.
Many of the participating seniors reported improvement in balance and coordination. Maria Beri, a member at CenterLights 99th Street Program of All-inclusive Care for The Elderly (PACE) Facility, experienced relief from back pain by taking the classes.
I have a herniated disk and a pinched nerve, Beri said. My doctor told me that movement would help, she said. And it has. Regarding CenterLight PACE, Beri added, I couldnt wait to join this program. Its something you dont find everywhere. The people are so caring. Its like a home away from home.
A new semester is planned to kick off in September to offer this unique wellness experience to a new senior class.
About CenterLight Healthcare

CenterLight Healthcare is a member of CenterLight Health System, a non-profit national leader in providing and coordinating residential, home and community-based long term care for more than 15,000 chronically ill and disabled adults throughout the New York metropolitan area. CenterLight Healthcare is an innovative managed long-term care organization on a mission to provide the highest quality long-term healthcare services to older adults, the chronically ill, disabled individuals and others, enabling them to enjoy the highest possible quality of life while living safely in their homes and communities. Serving more than 3,600 members at 14 centers, our Program of All-inclusive Care for the Elderly (PACE) program is the largest and one of the oldest such programs in the country. Learn more at http://www.centerlighthealthcare.org/.
Dance Theatre of Harlem

Dance Theatre of Harlem is a leading dance institution of unparalleled global acclaim, encompassing a performing company, a leading arts education center and Dancing Through Barriers