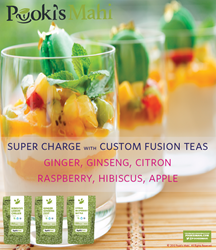 Silicon Valley, CA (PRWEB) October 20, 2014
Silicon Valley etailer startup announced today the launch of Pookis Mahis Custom Fusion Tea Collection. The collection fulfill customers request for fruitier, unique tea fusions that is full of flavor.
Customers provided feedback to Pookis Mahi and a Customer Advisory Board for over a year before launching a pilot of the collections last year. Pookis Mahis customer based wanted teas that were full of aroma, not as strong as black teas and can be served as iced teas.
Pookis Mahi has a lengthy process to assess suppliers and the entire supply chain ecosystem from ordering the product to fulfilling it before including them into any product collection, Wholesale Program or Private Label line. Our tea manufacturing partners have been easy to collaborate and execute, says Pookis Mahis Founder/CEO Les Magsalay-Zeller.
Les explains, Celebrities at red carpet events love Pookis Mahis 100% Kona coffee Single Serves and our award-winning teas. Pookis Mahi brand expanded because of the quality of the suppliers weve selected, their attention to detail and ability to execute. Pookis Mahi is expanding the 100% Kona coffees and tropical teas offered in the Single Serve product line with new flavors in 2015.
Young Actor Winner Zach Callison (of Sophia the First) nods in approval, Fantastic combination of aromas. The intensity of the chocolate and banana hits you first. Thats followed by a mellow blend of rooibos and apple. Often, other rooibos teas have a funky, tart, bitterness to them. You will not taste it in Pookis Mahis Banana Cocoa Blossom loose-leaf tea. A perfect tea for a slightly cool evening or morning.
The new custom fusion teas are part of the Chillax and Cool Down with Pookis Mahis Teas campaign. Tea drinks can super charge their day with Pookis Mahis custom fusions tea. The teas in the Custom Tea collection are an aromatic mix of super fruits, dried herbs, and nuts for a refreshing antioxidant drink. They have ginger, ginseng, citron, raspberry, hibiscus, apple, and tropical fruits.
The teas in Pooki's Mahi's Custom Fusions Tea Collection are:
1. Citron Ginger Blast: This soothing organic red rooibos wonder has ginger and organic rooibos tea smoothed over with the sweetness of honey bush and lemon verbena.
2. Citrus Raspberry Battle: This is another example of merging bright fruity raspberry flavors with the zesty, zingy lemon grass to create a sweet, refreshing delectable ambrosia. Bright and crisp raspberries enhance the refreshing lemongrass citrus elixir.
3. Coconut Citrus Apple Blast: Bright citrus balance of lemon verbena, lime essence and orange peal with creamy coconuts creates a sweet medley. The tart apple bits add to the brew as well as balances.
4. Ginger Ginseng Zest: The custom fusion blend of ginger, Indian ginseng and chamomile ads some spice to the overall medley. It is complimented with a mixture of rosehips, orange peel and zesty mint that wraps with the sweetness of fruit.
5. Hibiscus Lemon Chiller: The mix of Guayusa and lemon grass provides a soothing citrus infusion. Hibiscus flowers add a tropical floral aroma. Stevia leaves naturally sweeten Pookis Mahis custom fusion adding to the floral undertones.
6. Peach Citron Sunrise: The sweet combination of rose hips and marigolds adds to the citrus medley of lemongrass, lemon myrtle and orange peel. Apple bits add a hint of tartness to compliment the sweet fruit infusion and floral undertones.
7. Ruby Orange: Combining South African Rooibos and honey bush for the light pink hue; orange peels create a clean, refreshing and citrus finish. Safflowers and hibiscus flowers rounds out the cup.
8. Tropical Surfer: This rooibos tea is a mixture of honey bush, rosehips, black currant and tropical bits.
9. Zesty Mint: A blend of mint and herbal rooibos that tastes like a peach cobbler.
Not all teas are brewed the same. Pookis Mahis suppliers improved the formula and packaging for these teas. Teas now come in a handy reusable standup pouch that include brewing instructions for each specific tea and ingredient list. The new packaging utilizes icons to assist customers in identifying key information such as caffeine level, number of cups served and allergy warnings. Customers make informed buying decisions.
Pookis Mahis custom fusion teas are available in loose leaf and pyramid tea form. Many of the teas can be purchased as a tea subscription, as part of the Customer Referral Program, which offers rewards and discounts for new customer referrals. Pookis Mahis custom fusion teas are also available in the Wholesale Program. Free shipping is included in non-subscription purchases and subscription plans.
The Academy Awards